17 October 2019
Volunteers at Northwood & Pinner Liberal Synagogue (NPLS) organised a pre-Sukkot tea for more than 125 refugees.
The guests, who are supported by the Watford and Three Rivers Refugee Partnership, enjoyed their first experience of a synagogue and spending time with Jewish people.
The refugee children were greeted by Scarlett and Talulah, aged eight and six, who introduced them to a range of activities including face-painting, arts and crafts, table tennis, parachute games and event indoor football. All activities were delivered by the youth of NLPS and, afterwards, the young people joined together for pizza, crisps and cake.
Meanwhile the adults enjoyed such incredible conversations as stories were shared and, in a few cases, tears were shed.
The event was opened by The Lord-Lieutenant of Hertfordshire, Robert Voss (pictured with some of the guests). He said: "It was interesting to learn so many different stories from around the world. Many thanks must go to the synagogue's Rabbi Aaron Goldstein, Rabbi Lea Mühlstein and the huge number of volunteers."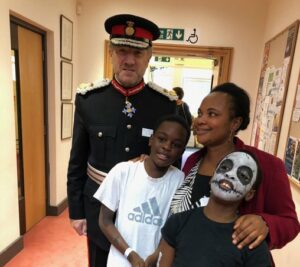 Rabbi Aaron Goldstein, senior rabbi of NPLS, added: ""There could not have been a more meaningful way to bring in Sukkot, literally creating a sukkat shalom (shelter of peace)."
[Photo credit: @hertslieutenant]