The members of South Bucks Jewish Community (SBJC) were joined by Lord Rothschild as they celebrated Chanukah in the grounds of Waddesdon Manor – a Rothschild home bequeathed to the National Trust.
This celebration of a Jewish festival was a likely first for the National Trust and a unique occasion for one of the fastest growing Liberal Jewish communities in the country.
Rabbi Neil Janes of SBJC and Sarah Dewberry, Head of Learning at Waddesdon Manor, had been working to create this moment for months, which led to 125 members and friends booking to attend the first night of Chanukah, in spite of the rain and World Cup final. In another first, artist Michelle Dufaur created a giant Chanukiah from willow and incorporated the artwork of members which was put on to lantern paper.
Thousands of visitors have already been able to view the Chanukiah, along with the other stunning festive light installations for Christmas. This was a moment of visibility for the Jewish community in Buckinghamshire and a courageous act of outreach by the National Trust, generously supported by the Rothschild Foundation.
The Chanukiah will remain in situ. It will be lit every night of Chanukah and continue to be present during the whole Christmas light display at Waddesdon Manor.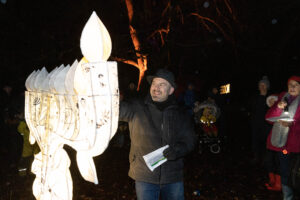 Rabbi Neil Janes (pictured) said: "This was a thrilling moment for a community that is so vibrant and creative. We are grateful to all at Waddesdon Manor and the Rothschild Foundation. The evening has allowed our community, which does not yet have a building of its own, to be together, to share the light of Chanukah with all and to support the National Trust in being an organisation that welcomes the full diversity of our country and makes us visible in such a beautiful way."
Pictures by Adam Hollier Photography.