2 April 2020
Liberal Judaism, our communities and our youth movement LJY-Netzer are offering something for everyone throughout this period… every day of the week.
In our new Liberal Judaism At Home section, you'll find a selection of streaming options using platforms such as Zoom, YouTube and Facebook to bring Liberal Judaism directly to you in your own home.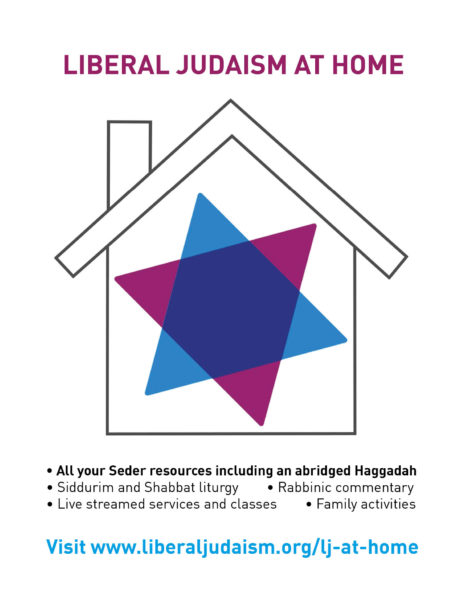 We have details of Liberal services and Seders from around the country – as well as Progressive communities all over the world – with options ranging from traditional prayers to modern favourites such as Simon Cooper's Friday Night Rock Service and Shabbat Resouled.
We have also put three versions of the Liberal Judaism Haggadah online – so you can use whichever ones best fits the Seder you will be taking part in, whether it's a big streamed event or a small intimate affair for just those in your house. There are four versions of our Siddur too.
We are also offering a diverse range of adult education classes covering everything from Beginners Hebrew to Tea & Talmud – delivered by Liberal Judaism rabbis including Rabbis Aaron Goldstein, Jackie Tabick, Rebecca Birk, Mark Solomon and Anna Posner – as well as rabbinic commentary, poetry and music.
Plus there are twice-daily LJY-Netzer activities to keep the children active and entertained.
Finally we have lots of social, health and wellbeing support including our 11am virtual check-ins, held jointly with Reform Judaism and hosted each weekday by Rabbi Charley Baginsky or Sharon Daniels.