10 July 2019
A Pride Shabbat service at Finchley Progressive Synagogue (FPS) honoured the trailblazers of LGBTQI+ rights in the Jewish community and around the world.
More than 150 people attended the service, which was themed l'dor v'dor (from generation to generation) and led by Rabbi Rebecca Birk, Cantor Tamara Wolfson, Student Rabbis Lev Taylor and Anna Posner and Student Cantor Rachel Weston. The event also included participation from representatives of Beit Klal Yisrael, the Jewish LGBT+ Group and Laviot – a community for queer, Jewish women.
Community organiser and writer Adam Eli was the keynote speaker, flying in from his native New York to attend the service as well as other Pride events in London. Adam is the founder of Voices4, a non-violent direct action group committed to advancing global queer liberation. He takes inspiration from Torah and Talmud to use Judaism as the framework for his activism. His speech was a call to arms, urging those in attendance to "show up" and continue the fight for equality.
Speaking after the service, Rabbi Rebecca Birk of FPS said: "For me it was momentous to host Pride Shabbat and to welcome the community into our sanctuary and see the rainbow flag on our Bimah. To share the service with an LGBTQI+ family of student rabbis, cantors and lay leaders was so good."
FPS member Peggy Sherwood MBE added: "I have probably been to over 20 Pride Shabbat services since the 1990s but never, ever, one like this one. I have never felt such a buzz, such a feeling of warmth and love, nor such a feeling of PRIDE. Pride in our synagogue, FPS, for hosting something that no-one has ever achieved the like of before, pride in Rebecca for being our rabbi and so open to everything we hoped would happen and pride in my community – both Jewish and queer together."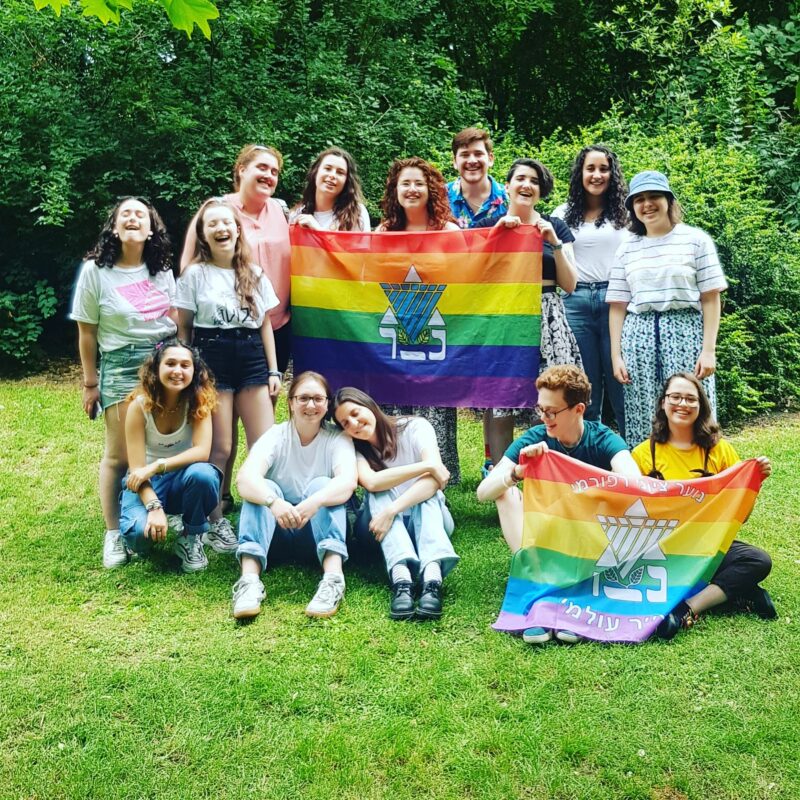 Many Liberal Jews took part in Pride parades and ceremonies around the UK, including our youth movement LJY-Netzer (pictured above). Liberal Judaism's heritage project manager Shaan Knan marched with a collective #TogetherInPride, among them Stonewall, Mermaids, Black Pride, Jewish and Muslim groups.