24 April 2018
Liberal Judaism's pioneering LGBTQI+ project Rainbow Pilgrims has joined the call for the repeal of anti-gay laws in the Commonwealth.
To coincide with the discussions on overturning global homophobic and transphobic legislation at the Commonwealth Heads of Government Meeting (CHOGM) in London, Rainbow Pilgrims teamed up with Queer London Tours for a heritage journey through iconic spaces that contribute both to the oppression and freedom of LGBTQI+ people worldwide.
Working with other partners – including Micro Rainbow International, African Rainbow Family, African Equality Foundation and the Peter Tatchell Foundation – a 30+ strong crowd equipped with placards and flags (pictured below) marched from the Indian High Commission to the Commonwealth Headquarters stopping at embassies and hearing stories from LGBTQI+ artists and activists from places of conflict.
Rainbow Pilgrims project manager Shaan Knan – pictured above with human rights campaigner Peter Tatchell on the tour – said: "With 36 out of the 53 Commonwealth member states criminalising same-sex relationships, it is a gruesome fact that 70% of Commonwealth nations are bastions of homophobic and transphobic prejudice, discrimination and violence.
"It was a life-changing experience listening, for example, to the story of a Nigerian lesbian in front of the Nigerian Embassy, and marching with such a diverse group through the streets of London chanting 'We shall overcome!'
"Today, I am very proud to be a Liberal Jew and support this campaign via our Heritage Lottery Fund supported initiative Rainbow Pilgrims."
During the tour, Peter Tatchell told those gathered that that at least 100 million people living in Commonwealth countries are at risk of imprisonment, violence and social discrimination.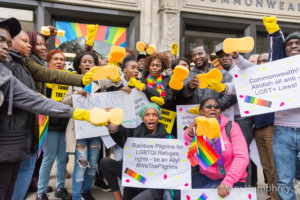 To find out more about Rainbow Pilgrims, please visit http://rainbowpilgrims.com/.