With the High Holy Days just around the corner, The Honeycomb Project is offering interactive virtual services for Rosh Hashanah and Yom Kippur. To register, please click here.
Partnering with the inclusive online community group 'Abraham & Sarah's Tent', it aims to offer a sense of community both here in the UK and around the world to those who, for whatever reason, can't get to a synagogue.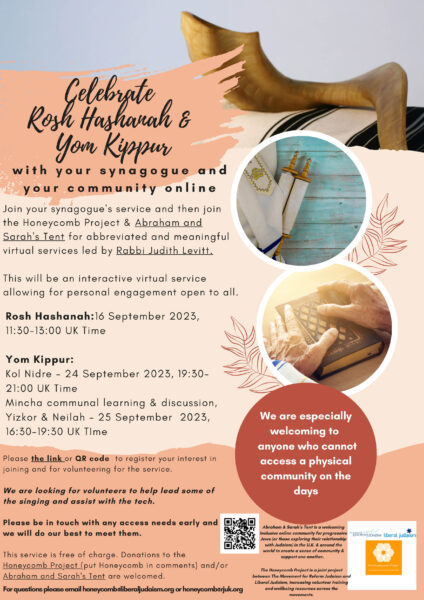 The services will be led by Rabbi Judith Levitt (pictured), who said: "What we're offering is in addition to what communities are already doing. We want to provide a space for those who are unable to attend in person and also perhaps would like an opportunity to engage or participate in the services and discussions.
"We are especially looking to those still shielding from Covid, are housebound, elderly, or indeed anyone who happens to fall ill over the High Holy Days. We also want to invite small communities with no one to lead their services or simply those people who don't have access to a physical community."
The Honeycomb Project is a joint enterprise between The Movement for Reform Judaism and Liberal Judaism, increasing volunteer training and wellbeing resources across the movements.
The services are free and open to anyone who is interested. The times are as follows:
Rosh Hashanah:
16 September 2023, 11:30-13:00 UK Time
Yom Kippur: 
Kol Nidre – 24 September 2023, 19:30-21:00 UK Time
Mincha communal learning & discussion, Yizkor & Neilah – 25 September 2023, 16:30-19:30 UK Time
To register, please click here.