Join us at 7pm on Thursday 26 November for a fascinating talk – Surviving the Nagorno-Karabakh Conflict: Professor Narine Ghazaryan's Story in Conversation with Rabbi Tanya Sakhnovich, chaired by Dr Michael Harris – broadcast live on Liberal Judaism's Facebook, YouTube and Twitter channels.
This is one of many regions of the world with very longstanding conflicts. As Jews, we have a long history of persecution, and are commanded to love the stranger and comfort the oppressed. This is an opportunity to become better informed on this particular situation by hearing from Professor Narine Ghazaryan, a friend of Rabbi Tanya's.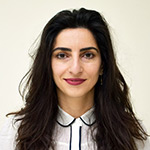 Professor Ghazaryan (pictured) writes: "My family woke up to the sound of bombs in Nagorno-Karabakh on Sunday morning, September 27. Having lived in relative peace for 26 years, new generations of Armenians are facing another fight for their right to live in their ancestral land. This relative peace was gained after a bitter war in the 1990s.
"I lived through that war as a child, later processing the trauma for many years. That trauma has taken a different form now, watching bombs fall on my town in real time, knowing that my family is hiding in a bunker which offers no protection from the most destructive weapons that are being used.
"With Turkey's support, Azerbaijan has started the war to resolve a longstanding conflict through military means. Armenians in Nagorno-Karabakh, Armenia and the diaspora see this as an existential battle given the involvement of Turkey and the state-sanctioned hatred of Armenians in Azerbaijan. In less than two months, thousands have been killed already. I hope to raise awareness."
Professor Ghazaryan specialises in EU external relations law at the University of Nottingham. She has published extensively and has worked on research projects relating to EU policies towards human rights.