Mitzvah Day may have taken place in November, but Liberal Judaism members and communities have continued the interfaith social action well beyond.
Liberal Judaism Officer and York Liberal Jewish Community Deputy Owen Power took part in the This Is Me Salford project (pictured above) at a local food bank. Owen and other members of the LGBTQI+ support group baked delicious cakes and then served them with coffee to everyone collecting food parcels.
Owen said: "This day was about one struggling community holding its hand out to another."
Sara Radivan, Regional Manager of the Board of Deputies, was also part of the project. She added: "I was delighted to join This is Me Salford in helping anyone and everyone who needs assistance. There were lots of clothes, games, hot drinks and cakes that members of the local community could come and take, as well as the food parcels."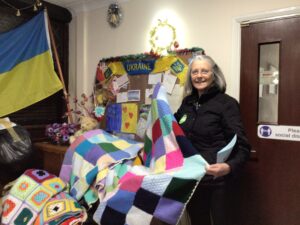 Meanwhile the first delivery of blankets that members of Bedfordshire Progressive Synagogue and their friends from other faiths have been knitting (pictured left) have arrived to help people on the Polish/Ukrainian border.
The kintters started the project on Mitzvah Day and have since carried on from home, keeping in touch by e-mail and sharing photos. The finished blankets form part of monthly shipments sent by the Ukrainian Centre in Luton.