A member of Kingston Liberal Synagogue (KLS) is one of the winners of a national competition marking Holocaust Memorial Day 2023.
Ali Simmons, 25, entered the competition with her portrait of fellow KLS member and survivor Bronia Snow.
Bronia came to the UK on the Kindertransport from Prague aged 11 leaving her parents and younger brother behind. The drawing (pictured above) – a mixture of soft pastels and oil pastels – shows Bronia sitting in front of her piano upon which are family portraits and a musical score which she brought from Prague.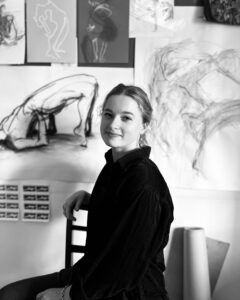 The exhibition – [Extra]Ordinary Portraits – is a collection of artworks that reveal the 'extraordinary elements of seemingly ordinary people'.
The Holocaust Memorial Day Trust partnered with The Royal Drawing School and asked young people across the UK to learn about someone affected by the Holocaust, genocide or identity-based persecution and create a portrait of them. An expert judging panel has chosen thirty to be displayed for the exhibition.
Upon hearing the news that she was one of the winners of the competition, Ali (pictured left) said: "I'm honoured that my portrait of Bronia Snow has been selected for the [Extra]Ordinary Portraits Exhibition. It was really special to spend time with her and draw her."